About the album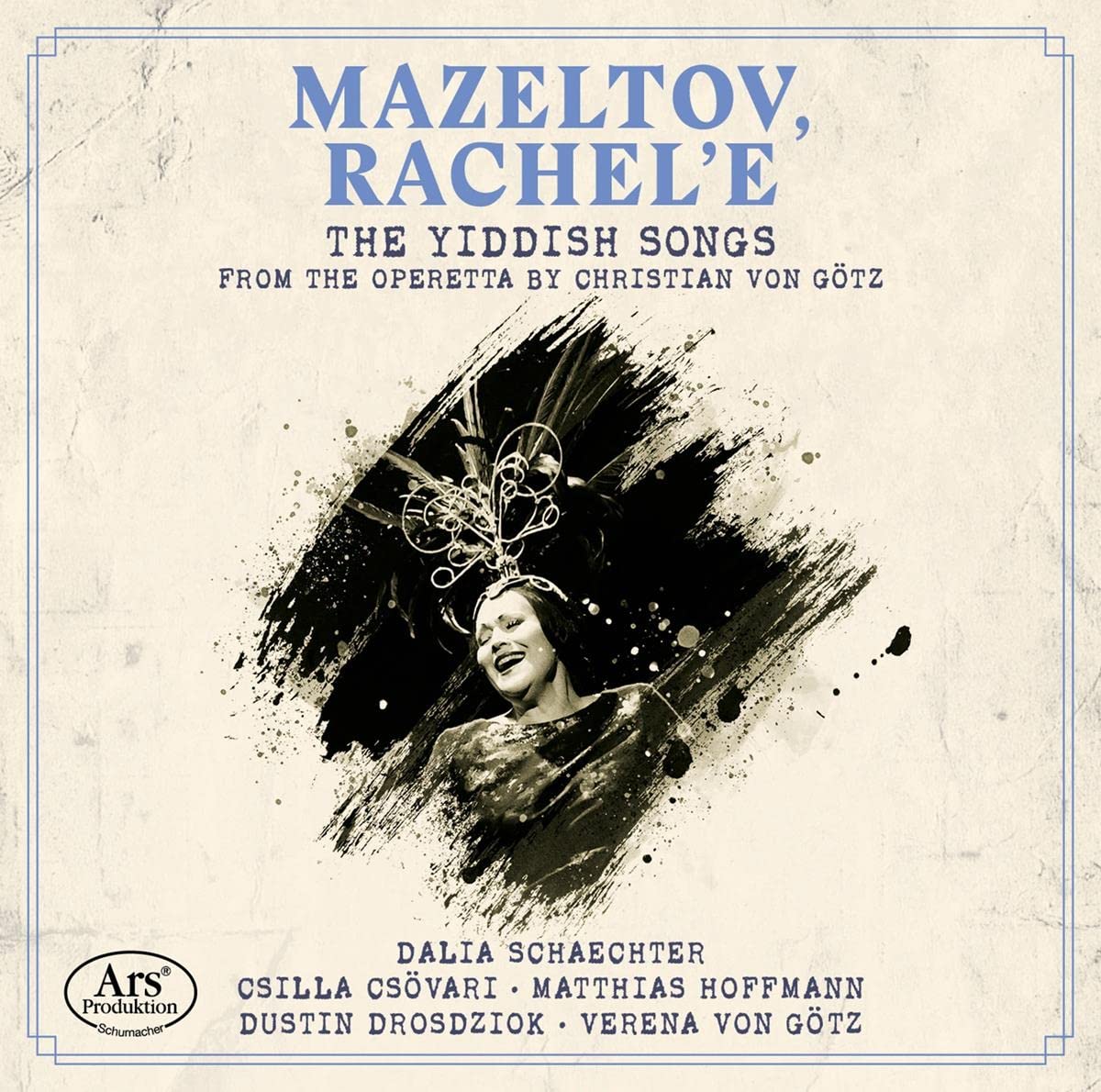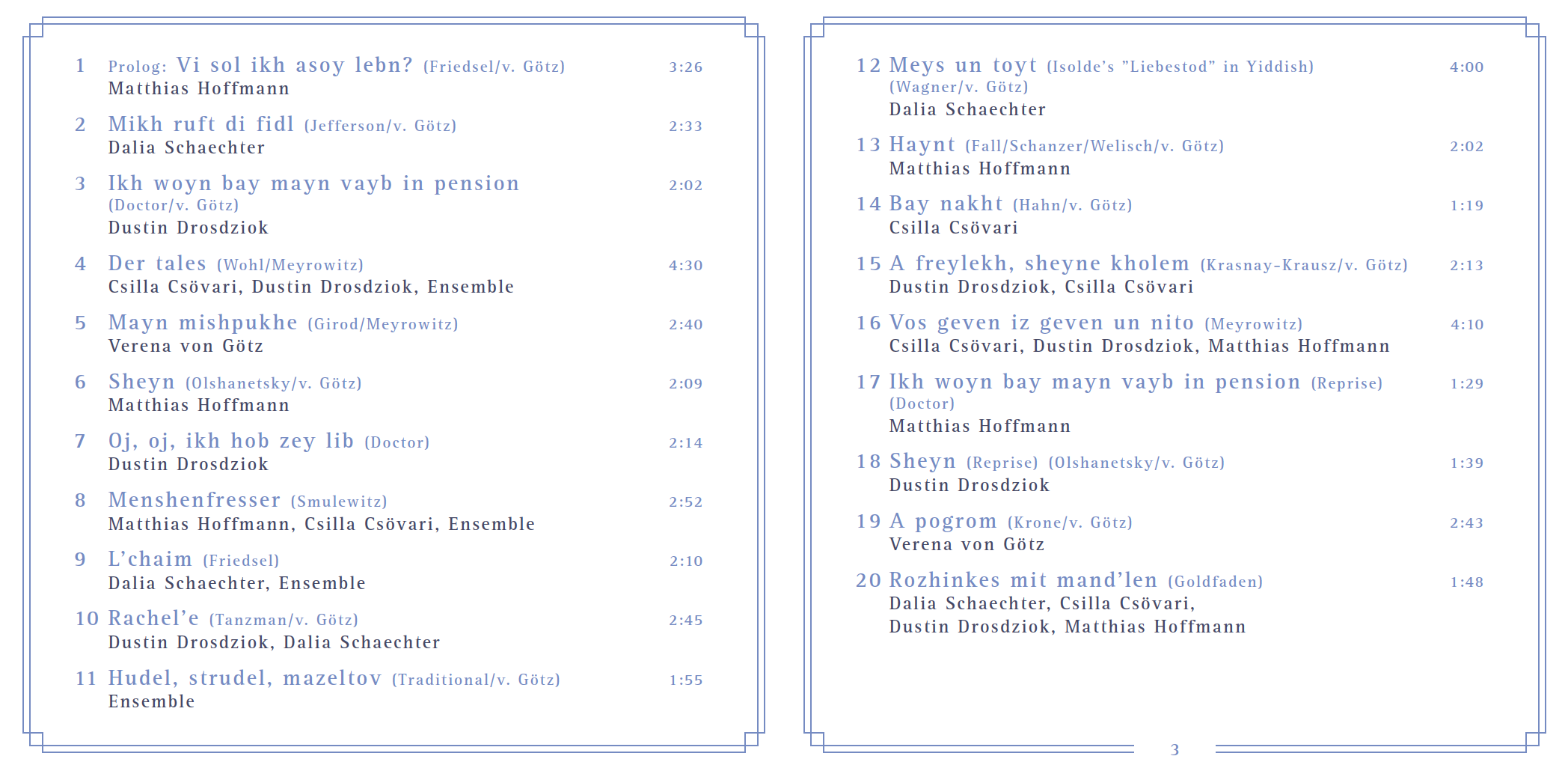 "It is still about the rehabilitation and rediscovery of a culture that was erased by the Nazis."
Annette Schumacher in conversation with author and director Christian von Götz
Annette Schumacher: When I saw the premiere production of your operetta Mazeltov, Rachel'e at the Cologne Opera in June 2021, I was surprised, very enthusiastic and deeply touched by the music and by the plot. How did you come up with the idea of making a stand-alone work out of the music of many Jewish composers of the 1910s?

Christian von Götz: In 2019 I was working on a plot for a small Yiddish-language work on the topic of a Jewish singer living in Germany and singing Wagner, of all things. I had the idea of putting Isolde's Liebestod at the centre of this piece. Not the original, of course, but in its own version in Yiddish. At the same time, I discovered Yiddish-language music by forgotten Jewish composers in American internet archives: music by Louis Friedsell, Louis Gilrod or Joseph Tanzman.

AS: These composers are completely unknown here. I find the idea really exciting that this powerful music may never have been heard before in Europe. Hooked on this, you researched for a long time and you were able to unearth many other treasures, e.g. by Solomon Smulewitz, Abraham Goldfaden, David Meyerowitz or Alexander Olshanetsky.

CvG: Yes, I had the idea of juxtaposing "Liebestod" with these dance-like, life-affirming and unpretentious excavations – to create a Jewish counter-world to Wagner's music. I quickly realized that the Yiddish pieces did not fit into my plot as they were, so I took them apart, paraphrased them, wrote new Yiddish texts, and thus assembled a stand-alone composition.

AS: Richard Wagner's Liebestod in Yiddish. Klaus Kalchschmid wrote in Die deutsche Bühne that it was "the great, moving climax" of your play. How did you come up with it?

CvG: I have long been fascinated by the Yiddish language and by classical Yiddish literature. Reconstructing Abraham Goldfaden's Sulamith, or translating the anti-Semitic Richard Wagner into Yiddish and thus ironizing these works, making them more human and building bridges, are all things I have had on my mind for a long time.

AS: Your work has a plane of realism: the misery of Israeli singer Lea, who is terminally ill and lonely, living in Cologne and struggling with the fact that she always performed Wagner. And it has a surrealistic plane where her ancestors appear in her life, at first to cheer her up and then later to "bring her home". Those are very existential topics. Didn't you worry of overburdening the operetta with it?

CvG: No – I have a special affinity for entertainment genres with a serious background. The music I used in Mazeltov, Rachel'e comes mainly from Yiddish ragtime and Broadway composers. Yiddish Broadway was a culmination of New York's immigrant culture in the 1910s. After the pogroms in Odessa in 1881, which was a major centre of Jewish culture at the time, many Jews fled to America and to Central Europe and brought their musical idioms with them. A few decades later, the calamity repeated itself with those who fled from the Nazi terror in Europe. My play depicts this parallel theatrical universe of the 1910s, which clearly shows the wounds of displacement, from the perspective of its main character Lea. Mazeltov, Rachel'e is also paying homage to a cultural niche that was forgotten because it was erased by the Nazis.

AS: We cannot understand a Jewish work of art without the context of the Holocaust. Did you address the Holocaust in Mazeltov, Rachel'e?

CvG: Of course. We must never ignore the stigma, suffering and loss caused by the pogroms and the Holocaust, but in Jewish culture itself they often play an unspoken and indelible role. In Herman Wohl's and David Meyerowitz' Der Tales, for example, a mother hands the father's prayer shawl to her son without mentioning the cause of his death – he was murdered in the pogrom. When dealing with and interpreting the works of Jewish authors, it is always a particularly sensitive challenge not to exploit punch lines in an unrestrained and irresponsible way. On the other hand, the Jewish humour should not be tamped down by the heavy thoughts and memories of those catastrophes.

AS: What motivated you to write Mazeltov, Rachel'e?

CvG: I think that we in Germany should learn to deal with Jewish forms of art and life in a natural, emancipated way. It is still about the rehabilitation and rediscovery of a culture that was erased by the Nazis.